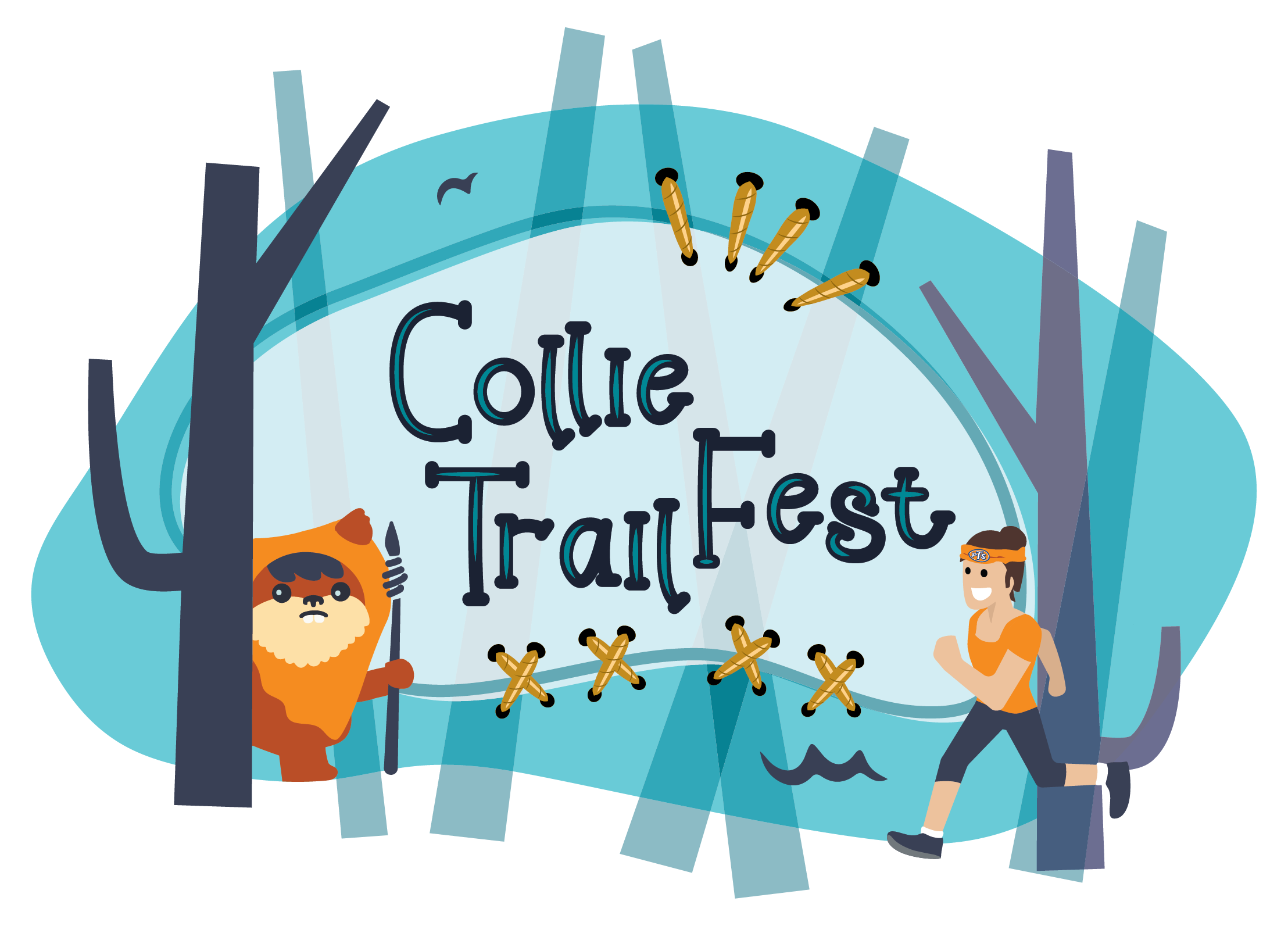 Collie Trail Fest Race Brief - Sunday
Course Description
Aid Station
We can't wait to cheer you on at Collie Trail Fest - our Sunday Funday exploring the Ewok Forest!
Directions and Parking Information
Follow Google Maps to Harris River Estate, 442 Harris River Road, Collie, WA 6225 Once you arrive please follow the directions of PTS Crew for Parking.
Important Times

7:00am Check-in and Bib Collection (closes at 7:50am)
8:00am Race Briefing (ALL Trail Half and 12km runners must be present)
8:10am Trail Half Course Starts
8:25am 12km Course Starts
8:26am Race Briefing (ALL 5km runners must be present)
8:35am 5km Course Start
8:50am Kids Fun Run Race Briefing and Course Start

10:30am Presentations
What To Bring

- Your Hydration System (handheld bottle, waist belt, or pack that holds a minimum of 500ml). This MUST be presented at Check-in or you won't receive your race bib. Please fill your hydration system at home, there is no tap available at the Start/Finish area.

- Your PTS Collapsible Cup to access water at the Aid Station and at the Top Up Stop. No cup = no water. If it's your first event let PTS Crew know at Check-in to receive your cup.
- Hat, sunscreen and a positive, prepared for anything, sense of adventure, trail running attitude!
- Cash / card for coffee, food, & drinks before and after the event.

What Not to Bring
- Your dog. Dogs are not permitted at the Event Village for Collie Trail Fest.
Post Race
- We'll have a Coffee Van, Food Truck (American BBQ - burgers, ribs, wings) and Ice Cream Van at the Event Village.
- We'll have Collie Trail Fest Merch available so you can grab a shirt to remember your weekend away!
- We'll have the Kids Face Painting and Stallholders at the Event Village.
- Stick around for Presos to be in the draw to win entry into Pemby Trail Fest 2021!* That's up to $450 of value just by attending presos! So grab some food and a drink, enjoy the tunes, cheer in your fellow trail runners, and be ready for Presos ~10:30am
Course Map
Download the Google Map to your device and follow your course colour
*Actual event day course may change - always follow course flagging on the day*

Black (Half Trail) GPX File
Blue (12km) GPX File
Green (5km) GPX File
TRAIL TIPS

Ditch the Headphones: With all the flowy singletrack, please leave the headphones at home. An additional reason for this, is we're on mountain bike trails. You need to be alert and aware of other trail users as well as your surroundings.
Flat and Fast: We know it's easy to pick up speed on the flowy trail. If you would like to pass, call out to the runner ahead of you. No need to step on their heels or breathe down their neck. If you hear panting behind you, call out to the runner, "Do you want to pass?" and then please let them." Let's look after each other to have the most fun!
Drop Down Option: Whenever there is a different course colour, you have the option to DROP DOWN and follow the arrows of the course that is dropping down your distance. Example: Black/Blue split. Blue/Green Split. Just check in with the Timing Crew once you've come through the Finish Gantry and let them know you dropped down!

Some Rules to Remember:
1. Disqualification (DQ) if caught littering or short-cutting/cheating.
2. Minimum 500mL hydration must be carried for the duration of the event and it's a DQ if you're caught without it. If you want to run without hydration there are great footpaths in the city ;-)
3. Bibs cannot be given to someone else to race on your behalf - your bib, your identity. If you did not enter this event, you aren't allowed to run the course on the day. This is called "ghosting" and will result in being refused entry to future PTS events.
4. We highly discourage headphone use at this event - it is a risk to your safety.
5. Woohoo and have fun while on course, keeping in mind that trail etiquette is key at all PTS events. Look after each other out there


IMPORTANT HEALTH AND SAFETY FOR COVID-19: PHASE 4
- If you're feeling unwell please STAY HOME!
- Don't forget to practice 1.5m physical distancing in the Start/Finish area and while you're out on course.
- Anyone who is not registered as a Collie Trail Fest runner (i.e. spectators) who attends the event on Sunday will need to check in using the SafeWA app. The Perth Trail Series SafeWA QR Code and Contact Register will be located at the Merch (Orange) Tent.
*All Collie Trail Fest registered runners who attend Presos on Sunday 18 April will be in the draw to win Pemby Trail Fest 2021 Multi Day entry. You must be a registered Collie Trail Fest runner to win. Prize will be for a single entry (if you entered Collie Trail Fest as a solo runner) or a family entry (if you entered Collie Trail Fest as a family). Prize is valid for Pemby Trail Fest 2021 only, maximum prize value is $450.